The Waterboys
THE WATERBOYS RETURN TO SLIGO
The Waterboys will play the Knocknarea Arena at IT Sligo on Saturday 8th December 2018 at 8.30pm. The popular band are delighted to return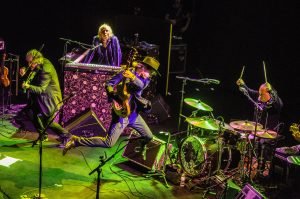 following their rapturously received concert in the same venue 3 years ago when they brought the house down with a mixture of new material and their long-time favourites.
Ever since Mike Scott first brought The Waterboys to public attention their career has been marked by staking out bold, new territory with fresh approaches and inspirational collaborators. This short Irish tour will introduce Out Of All This Blue, The Waterboys' 12th and first double album and maybe the most brilliantly daring and accomplished reinvention of The Waterboys to date.
Mike and fellow travellers, Sligo-based fiddler Steve Wickham, Muscle Shoals bass legend David Hood and Deep South keyboard wizard Brother Paul, play like demons on a mission.  But it's Scott's use of hip hop recording techniques – drum loops, samples and found sounds that ground the songs' soulful awakenings – that gives the album a particularly thrilling momentum.  Refusing to be cowed by past achievements Scott's determination to forge new ground is pre-eminent. "I always wanted to be better than anyone else," he admits.